with teams in
over 20 countries
By harnessing the power of our global network our mission is to provide certified quality protection and prevention solutions that safeguard the wellbeing of people and communities, to ultimately save lives.
With sourcing, manufacturing and distribution teams in over 20 locations, dealing directly with factories and with experts on the ground in logistics, admin and quality control, CoShield delivers competitive pricing, consistent quality and high volume availability.
To mitigate the challenges of increasingly volatile international trade and supply chains, CoShield has established its own factories, supply chain networks, strategic partners, and delivery channels across United Kingdom, France, Germany, Sweden, the Netherlands, United States, Canada, Barbados, Jamaica, St Vincent, Trinidad, Argentina, Australia, New Zealand, the Pacific Islands, China, Malaysia, the Philippines, Thailand, Vietnam, India, and South Africa.
We offer the advantages of consolidated spend, global client reach, and centralised procurement.

Partner with us to accelerate your sales and realise opportunities by gaining instant access to large volumes of high quality product and support from our global team.
Transparent and flexible pricing model profit share/JV options
Opportunity for private label offering on larger volumes
Partnership with CoShield's global network and resource including;
– Product and compliance team
– Global logistics and supply chain team
– Professional sales training and support – by industry experts
CoShield charter flight for 2San Europe
"We found CoShield a massive support, both in sourcing and managing the whole shipping process with product, their global reach and know how helps you have confidence in your decisions, that otherwise you wouldn't normally make.
Our hospital client needed 100,000 boxes of medical grade nitrile gloves in XL size only, CoShield was able to change a current production run, produce the XL gloves and have them air freighted to Europe in record time while achieving a price point mandated by the client…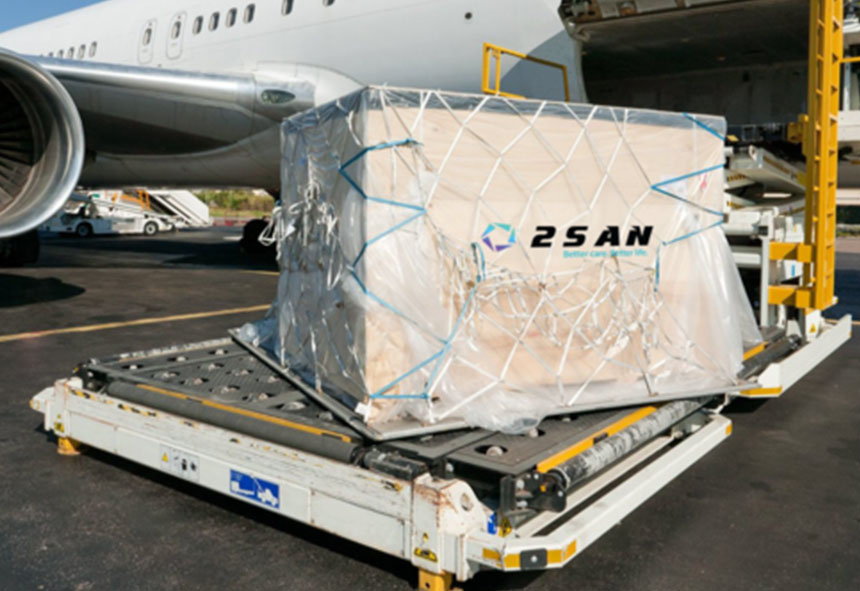 We are proud to partner with industry leaders across the world.
Are you a partner, team member, in our supply chain, or keen to join the CoShield journey? We would love to hear from you.